An excellent school not only help their students realize their fantastic dreams but also nurture their alumnus to grateful and responsible people who care about education with appreciation, feed and bring benefit to their old school. These alumnus express their love for their old school, the pure heart towards education and sincere expectation of students in practical actions.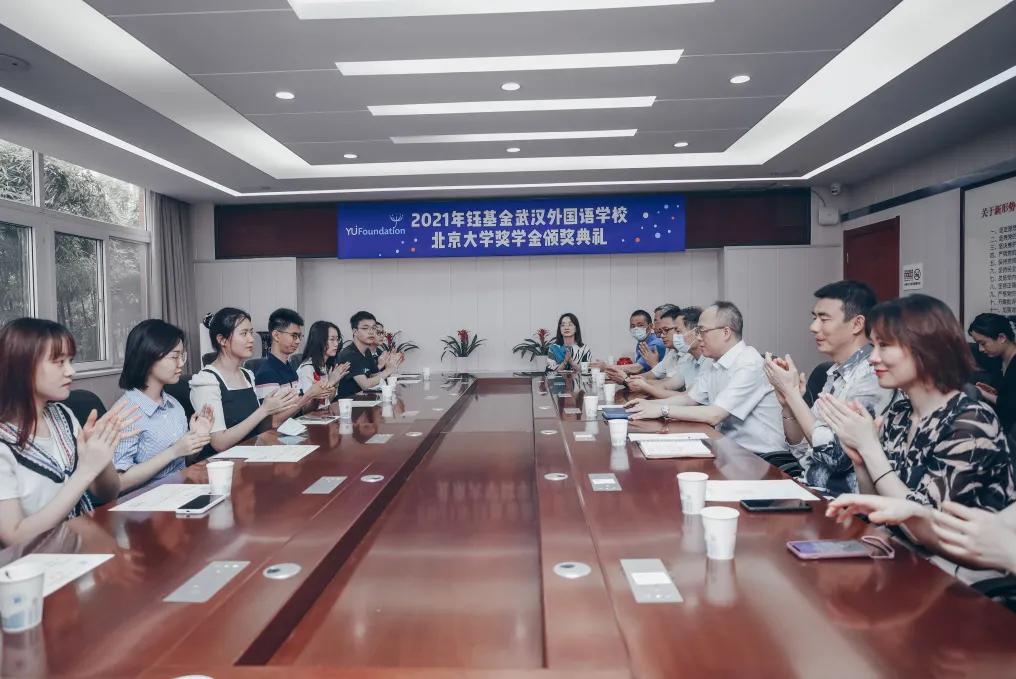 Today, Mr. Wang Hui, alumni of Wuhan Foreign Language School and Peking University, chairman of EYAS international education group, founder of Yu Fund, returned to his old school with excitement. Mr. Wang Hui and group senior vice president Wen Chaoyi, senior finance manager Deng Jun, senior government relations manager Yang Huafeng, with vice president Guo Hua, school leaders Wu Xiaoping, Duan Jinsong and Li Bowen, and senior high school teachers representatives of WFLS attended 2021 Yu Foundation Wuhan Foreign Language School (hereinafter to be referred as WFLS) and Peking University Scholarship Award Ceremony.
This year, a total of 14 graduates from WFLS were admitted to Peking University, they are: Chen Xinyi, Chu Yiting, Fan Chiyu, Feng Kongchang, Feng Xueyan, Gao Yang, Liu Minghao, Long Yunze, Xiong Xinyi, Zhang Ziyue, Zhao Yizhi, Zheng Jiale, Zhou Sicen, Zhu Mengyi. Yu Fund awarded scholarships to the above 14 outstanding graduates and sent them sincere wishes.
Repaying the love of old school and facilitating the growth of alumnus
The Vice President of WFLS are deeply comforted by the prosperity of outstanding WFLS graduates. This year is the first year of new GaoKao, teachers and outstanding graduates united their power to made great achievement again and fulfilled everyone's satisfaction. Every extraordinary achievement of WFLS is tightly connected with the unity of students, teachers and parents and the great support of alumnus.
"Wang Hui has been graduated from school for more than twenty years. He has always been paying attention to his old school and offered WFLS graduates who studied in Peking University scholarships, which demonstrates his responsibility." Vice President Guo Hua responded feelingly, "Wang Hui engaged in education and training industry. When faced with the fierce industrial competition and influence of epidemic, he still preserved and offered more scholarships. His love for school, sincerity for education are touching and admirable."
WFLS Vice President Guo Hua(first from the right) felt grateful for alumnus and sent wishes to students.
Vice President Guo Hua adviced graduates to set up lofty ideals and keep the ambition for study and good learning habits after entering Peking University, follow the example of compassionate and grateful alumnus like Wang Hui and become a responsible person with great version.
Recalling the original intention of setting up Yu Fund 10 years ago, Wang Hui mentioned that the developing goal of WFLS is "set sail to the world and the future from here", the educational strategy of Peking University president Cai Yuanpei is involving and embracing freedom of thought. Similar educational ideas of two schools which dedicated in cultivating open-minded, independent, creative international talents prompted him to establish this scholarship.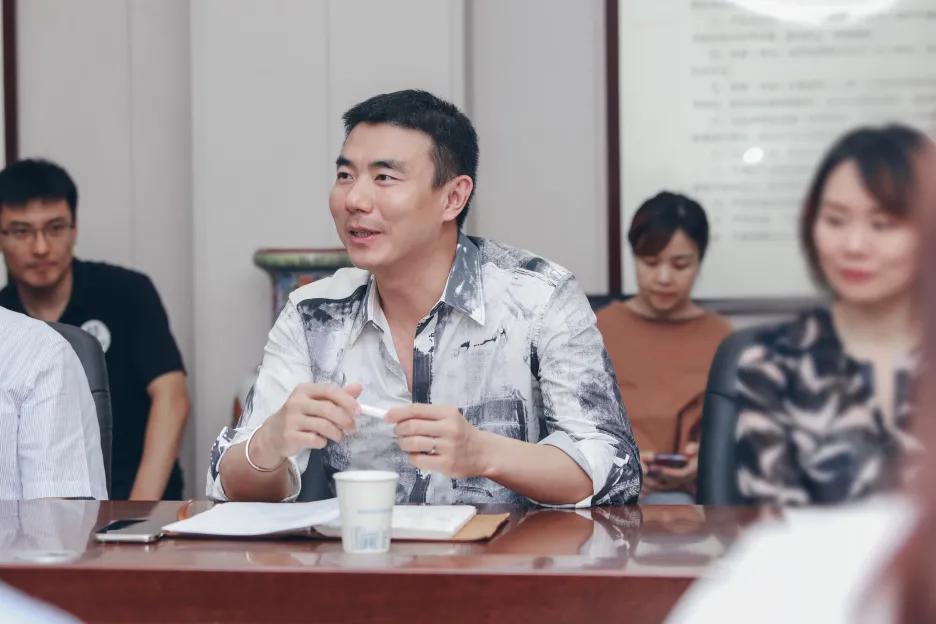 The founder of Yu Fund, Mr. Wang Hui, from WFLS to Peking University, six years of learning in return of gratitude for whole life
At the same time, Mr. Wang Hui thanks his old school for her open mind dedicated in propelling the construction and implementation of Yu Fund and helping to combust small fire to enhance the cohesion of alumnus.
Mr. Wang Hui hopes that Yu Fund can absorb more alumnus to join in and build a bond connecting each other, continuously promote the construction of WFLS Fund and make her become a truly century-old school.
Practice and innovation create the man of the hour
"Middle school stage is an important period in shaping a person's world outlook and values." Mr. Wang Hui feels grateful that his teachers and school leaders planted a seed of going to the world in his heart and laid solid foundation for his development in the future during his six years in WFLS.
Xiong Xinyi, a graduate of WFLS and a freshman of Peking University's Life Science School, recalled the three years of common progress with her classmates. Acting on the spirits of curiousness and innovation, she found direction while achieving her dream and anchored a memorable time. She will always behave like Mr. Wang Hui, keep her mission in mind, create brilliant future and become the country's talent, the world's talent.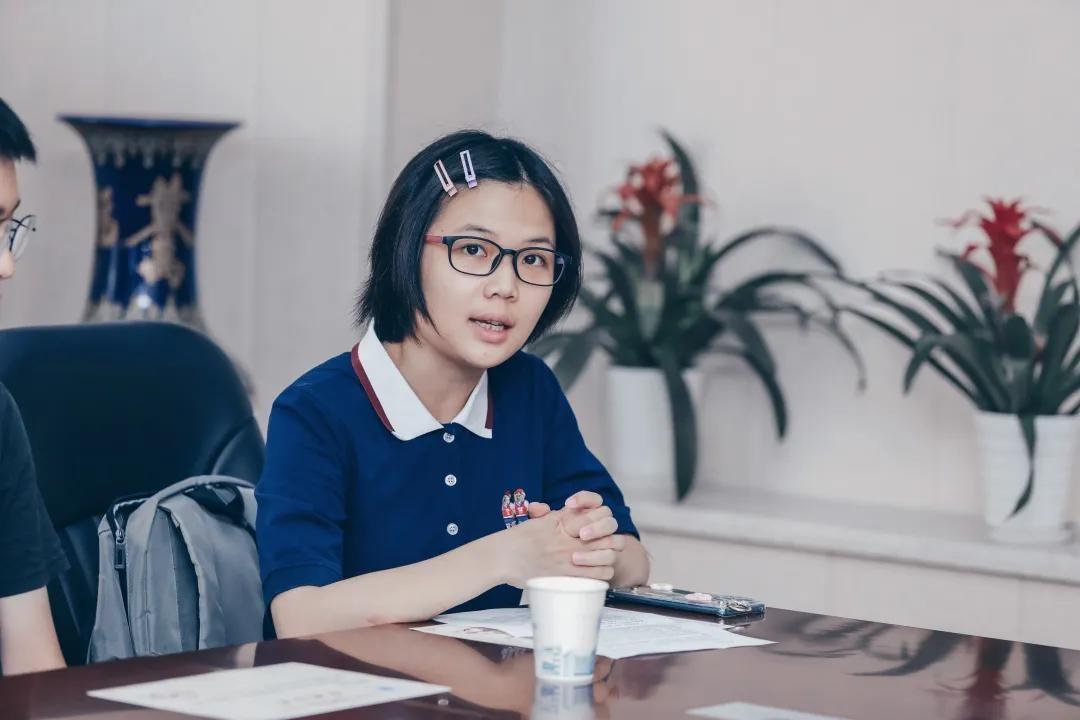 Entering WFLS since 12 years old, Xiong Xinyi spared no effort to grow freely and reflect on the "world"and the "future".
"Standing on the platform of WFLS, my world is expanded and shrunk at the same time. It's a school loaded with infinite possibilities. Our vision has been largely expanded, but when we still stay confident and keep thinking in the vast ocean, the world becomes a tiny point belonging to ourselves. We gradually build our own ark and sail to our future lighthouse." WFLS graduate Zhang Ziyue said frankly.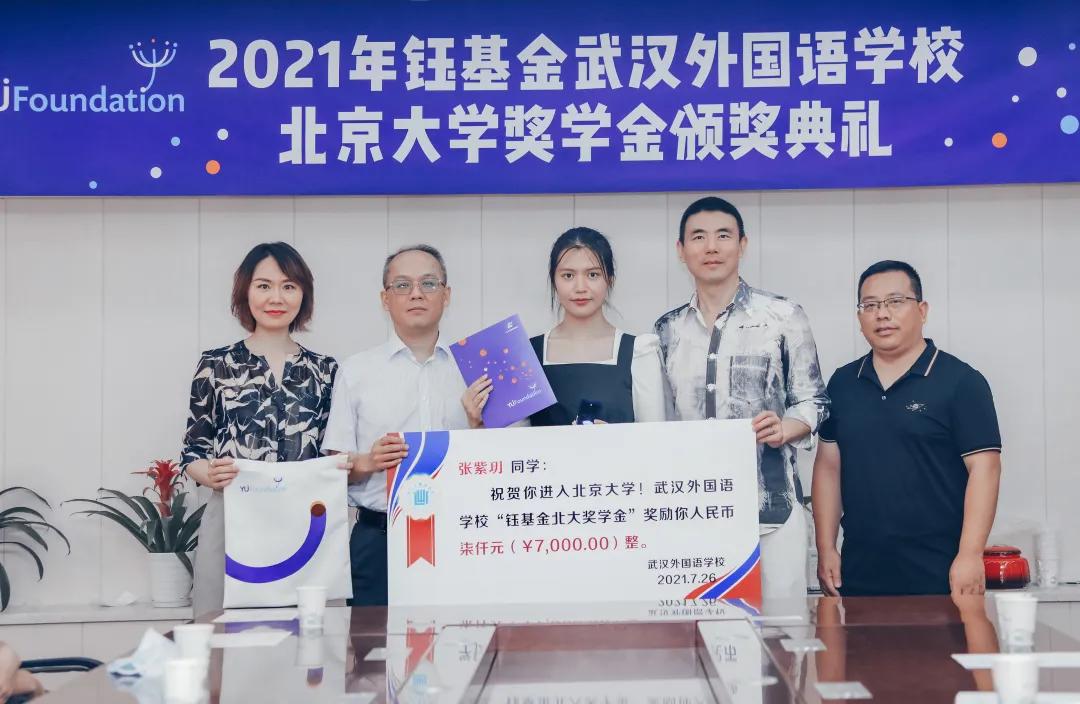 Zhang Ziyue (in the middle) will begin a new journey in Peeking University's Foreign Language School.
Setting foot in the top university in China, Zhou Sicen thanks the school, teachers, classmates, parents, Yu Fund. She determined to pass on the spirit of WFLS. With the haunting memories in her middle school, she set out for Peking University. She shows the style of WFLS students , let WFLS become the most shining signboard in Peking University.
Trust, gratitude, inheritance are Long Yunze's conclusion of his life in WFLS. In such an open and free learning environment, students' independent learning ability is necessity. The teacher's patient teaching, Yu Fund's concentrating escort engraved in his heart. He will spread out the blessings in the future.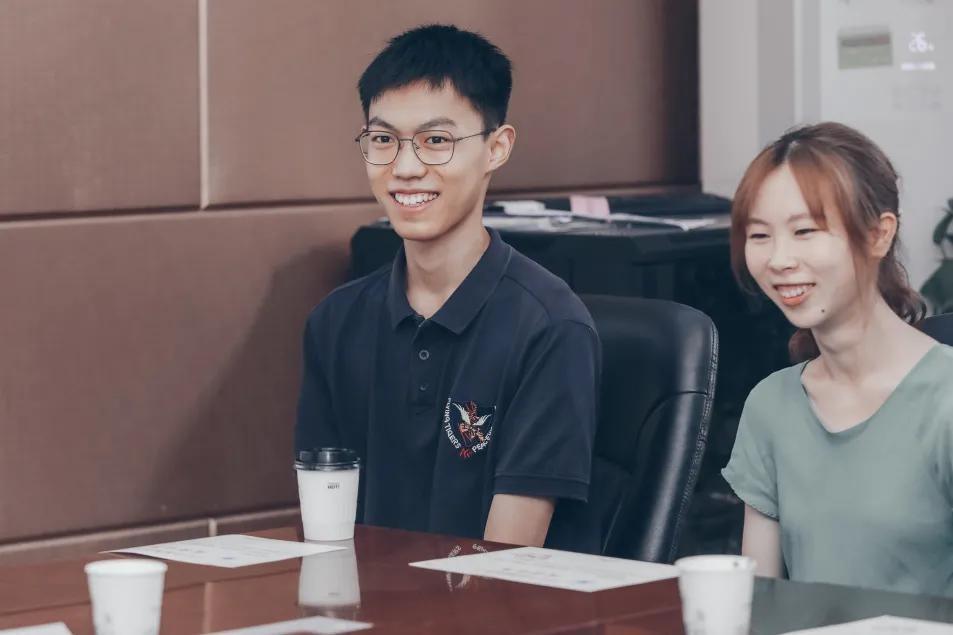 Long Yunze (first from the left) and Chen Xinyi will pursue further studies at the School of Earth and Space Sciences and The School of Mathematical Sciences at Peking University respectively. They are looking forward to their university life.
The kindness of Yu Fund impressed WFLS graduate Liu Minghao. I saw inheritance in Yu Fund. No matter the encouragement during our difficult journey from WFLS to PKU or the persistent guard when we head to the world and the future, are engraved with Yu Fund's entrustment and expectation. We are going to pass on this eternal gift to the next generation.
According to the concept of "carrying out quality-oriented education with the emphasisis on innovative spirit and practical ability", WFLS helps students to reach the world and the future.
Keep exploring the unknown and scaling new heights
"Cherish the precious time in university, keep efficient learning and self-disciline, love the colorful life on campus and continue to absorb nutrition."is Mr. Wang Hui's genuine suggestion for boys and girls.
During his study in PKU, Mr. Wang Hui participated in Mountain Eagle club and conqured plenty of mountains. The PKU mountaineering team reached the summit of Qomolangma on the occasion of 120th anniversary of PKU in 2018.
It's just the challenging and extreme climbing life in the four years of university that endowed Mr.Wang Hui with tenacious willpower to confront the unknown difficulties and challenges in the future entrepreneurial process.
Mr. Wang Hui's experience facilitates and encourages students.
Mr. Wang Hui hopes that during the process of entering colleges and heading to the world, our juniors should keep the passion for life, summon up the courage to pursue victory and take the initiative to shoulder social responsibilities.
He also suggested that after graduation from PKU, the persisitence in further education and the combination of theory and practice are the key to set foot on the stage of world, to influence and change the world.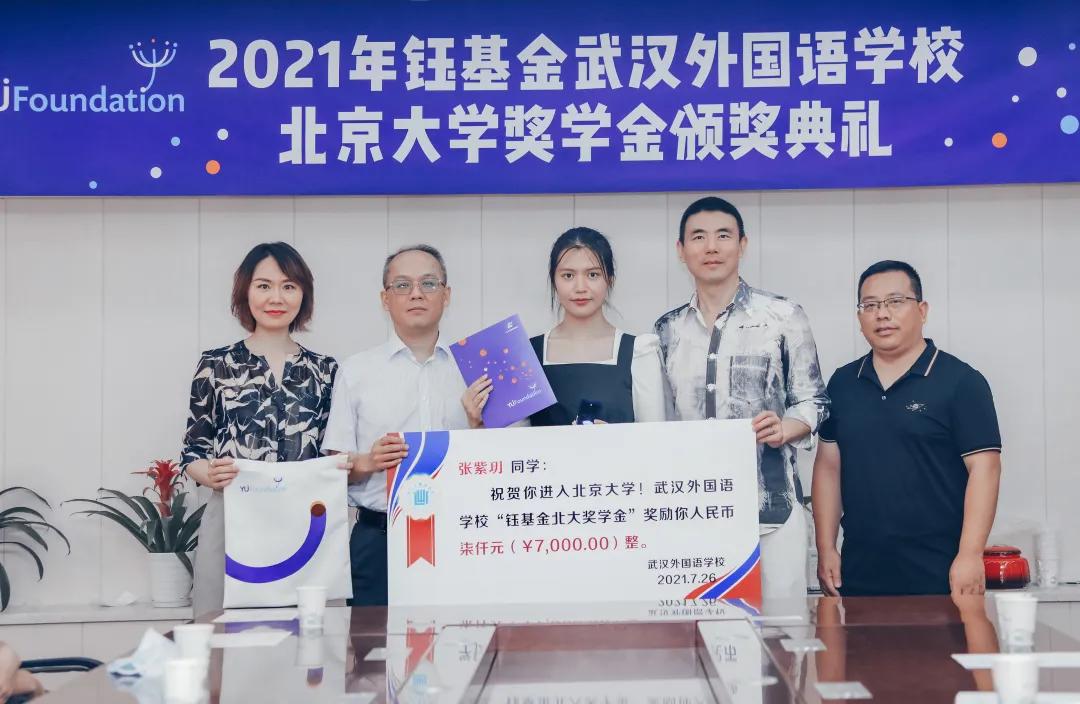 EYAS international education group has been committed to cultivating talents who can change the world. Established by the group chairman Mr.Wang Hui, Yu Fund has gone through ten years, encouraged countless excellent WFLS graduates to aim high and fly free. Only when alumnus stay true to the original aspiration and shoulder the responsibilities to pass on from generation to generation, can we watch and guard the spiritual root and cultural accumulation of quality-oriented education of WFLS, compose the magnificent chapter of youth with lofty sentiments, blossom dreams and pursue brillent life.
Yu Fund was established by EYAS international education group chairman Mr.Wang Hui in 2010. As an alumnus of WFLS,PKU, China Europe International Business School and Harvard University, he has been focusing on the development of domestic and foreign education and is committed to bringing the frontier international high-quality education concepts to Chinese children. In the past 11 years, Yu Fund has awarded scholarships of nearly 1.5 million yuan to 122 outstanding graduates of WFLS, aiming at feeding old school and encouraging students continue to study in PKU and famous universities abroad to become world-changing talents.