seven years in EYAS

Johns Hopkins University is a university of great reputation. Especially in the year after the outbreak of virus, "According to the statistics of Johns Hopkins University" were heard on the news everyday. Jean received the offer from Johns Hopkins University, one of the top universities in America.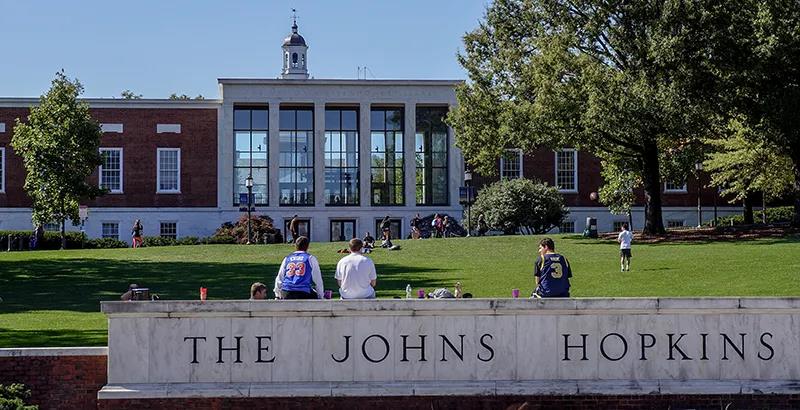 "I remembered that Jean came to EYAS when she was in the forth grade." Jean's teacher in EYAS, Dora recalled. She just came back from America. As her mother stayed in America for a year as a visiting scholar, Jean spent her third grade in America. After returning, her mother made comparison among many English learning agencies and chose EYAS in the end.
Jean and American headmaster
"It's not easy to find a place which is so similar to American class after returning to China!" Jean said. She loved the learning style and content, the atmosphere in class and the culture.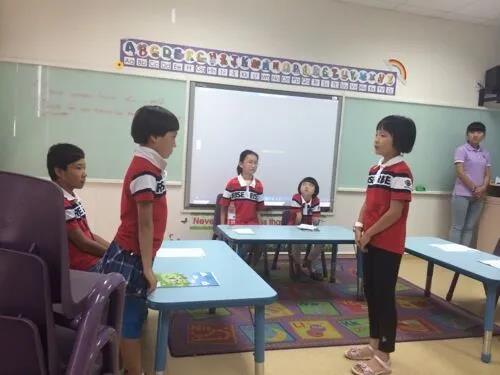 "Jean adapted very fast. The most impressive thing is that she was fond of reading books. During the break, while other classmates were watching English movies, Jean always had a book, an original book in her hand,
In a Language class at the stage of S4, the text tells a story about a girl overcoming difficulties and breaking through herself. The teacher let students write a composition combining their own experiences. Then Jaen created the following short text.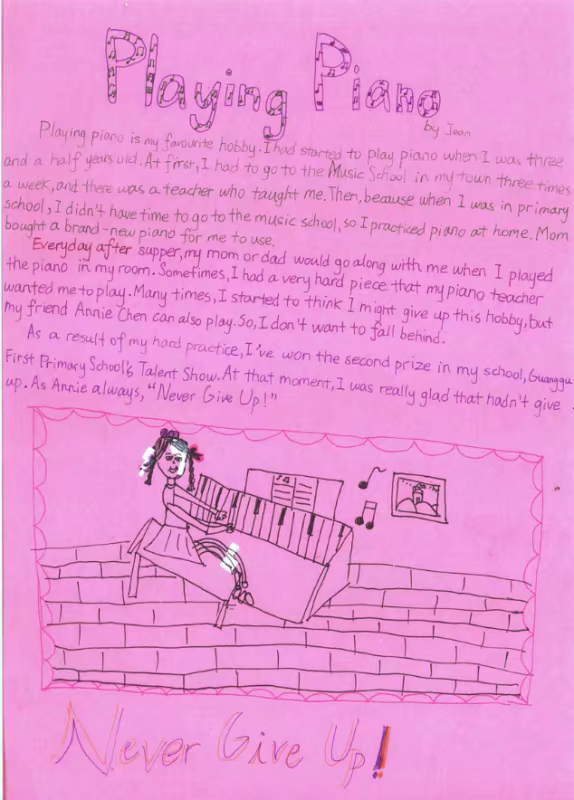 Until now, Jean still keeps the habit of writing diary and writes essay sometimes.
In the stage of S5, there is a PBL course, which is to learn the clans and genera in biological taxonomy. The teacher let everyone continually and carefully observe the living and non-living creatures around. Then Jean wrote this observation report.
Jean's homework in the stage of S5
In the class of EYAS, Jean had many opportunities to prepare materials, have group disussions, relay the learned information to others and be ready for the doubt from classmates and teachers towards the information. "Relaying is a great learning method, which has been utilized in my later studies."
"The biggest help EYAS provided for me is the exercise for my public expression, which maintain my oral proficiency and also enhance my confidence!"
In EYAS, no matter in Language, Mathematics or Science classes, there are plenty of chances to make presentation.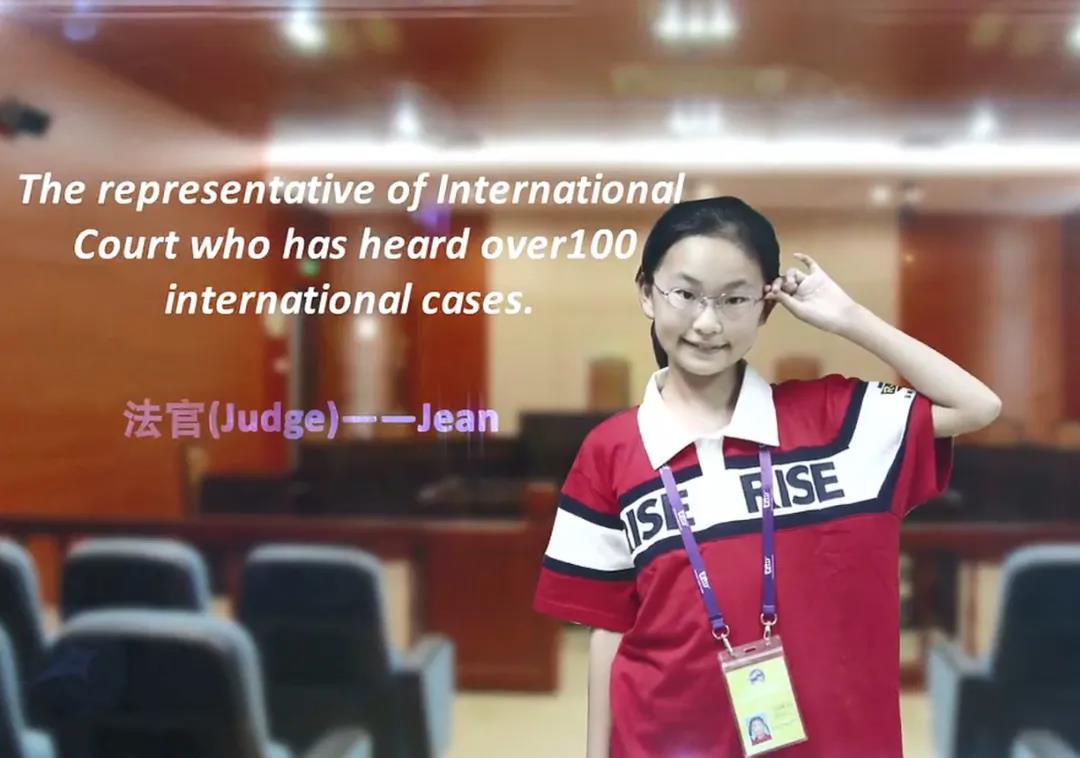 Jean joined in the "RISE Cup", English program application ability competition held by RISE, an English education brand under EYAS international education group
During the 7 years in EYAS, Jean had always been accumulating her basic abilities to go out to the world.
The recipe for being competed by world's top universities is not just standardized scores.
"How many offers have you received altogether?"
"About 5 or 6, like Johns Hopkins University, University College London, The University of Edinburgh and The University of North Carolina System!"
For Jean, standardized scores alone can't explain the reason why she can receive so many offers from top universities.
I took SAT only once and I got 1520 points. The total score of my TOEFL is 111 and my best score is 116. My rank at school usually kept in top 10 with occasional supernormal performances. But the top American universities not only focus on your scores, but also attach the importance to the practical activities you took part in.
Jean attended 2020 USAD(United States Aacademic Decathlon) in China and won the national individual single art gold medal and literature silver medal. In the same year, she attended NHSDLC (National High School Debate League of China) and entered the national top eight. She also participated in summer school activities at Stanford university and Brown University. She wrote related papers, and received both recommendation letters from a tenured professor at Brown University and a professor of film at Stanford University.
"Schools can tell whether a student is equipped with the abilities to lead, cooperate and solve problems and her passion for academia and efforts she made from these activities."
In high school, Jean co-founded the Wuhan branch of Girl Up, a global organization affiliated to the United Nations Foundation
Girl Up is an organization to enhance girls' skills, protect girls' rights and support girls to become leaders. The opportunity to establish Wuhan branch of Girl Up appeared when Jean sign up online for an activity called "Girl Up 2020 Global Leadership Summit". In the past, this activity would be held in Washington, US. But in 2020 it was changed to online due to the epidemic. At the summit, the organizers (the UN Foundation) invited successful women all over the world to share their growing experiences and stories.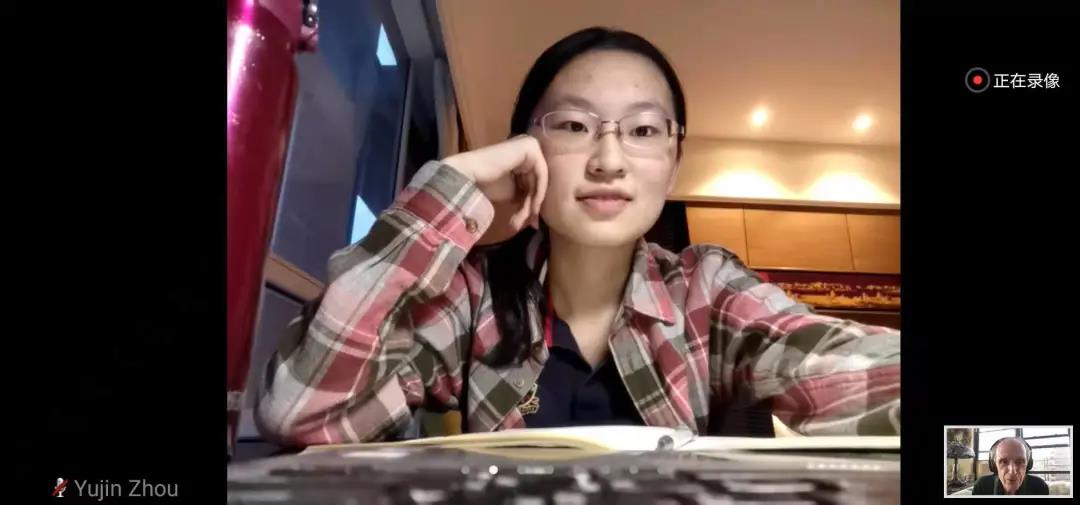 Jean attended the summit.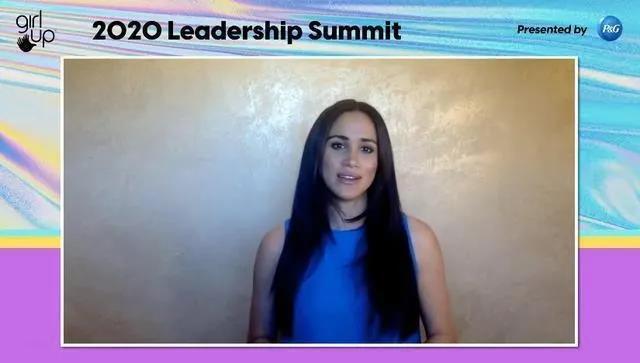 Meghan Markle and Michelle Obama also attended this summit and delivered speeches.
Being enlightened, Jean decided to started from small things to help females around solve practical peoblems. First, she launched a project called "Reiprocal Sanitary Napkin Box". "Because some girls often forget taking sanitary napkins when go to the restrooms, it occurred to me that we could install this box to solve urgent problems."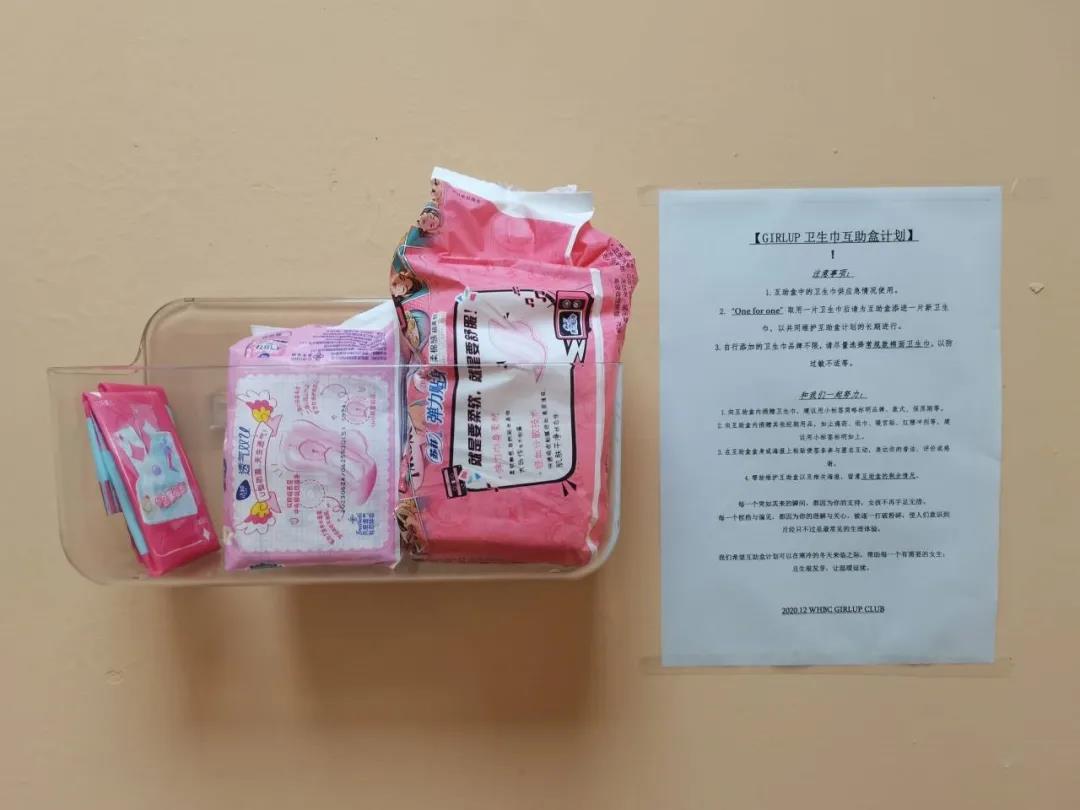 If you use one pad in the box, you need to put a new one back in order to help next girl.
Jean also discussed female topics with members of the school's debate club, such as " Whether it's reasonable that boys are good at science projects while girls are good at liberal arts?"
When many Chinese students immerse themselves in a large amount of homework and exercises from sunup to sundown, there is a crowd teenagers like Jean trying to explore this fascinating world in their own way. In Jean, we can see what a teenager should look like under the international elite education, healthy in body and mind, practicing both arts and science, solid in academia, full of responsibility and sense of mission.
You can do anything well if you work hard.
Jean benefited from the open, encouraging, free learning style and atmosphere in EYAS class but also from her parents' influence in the process of her growing up.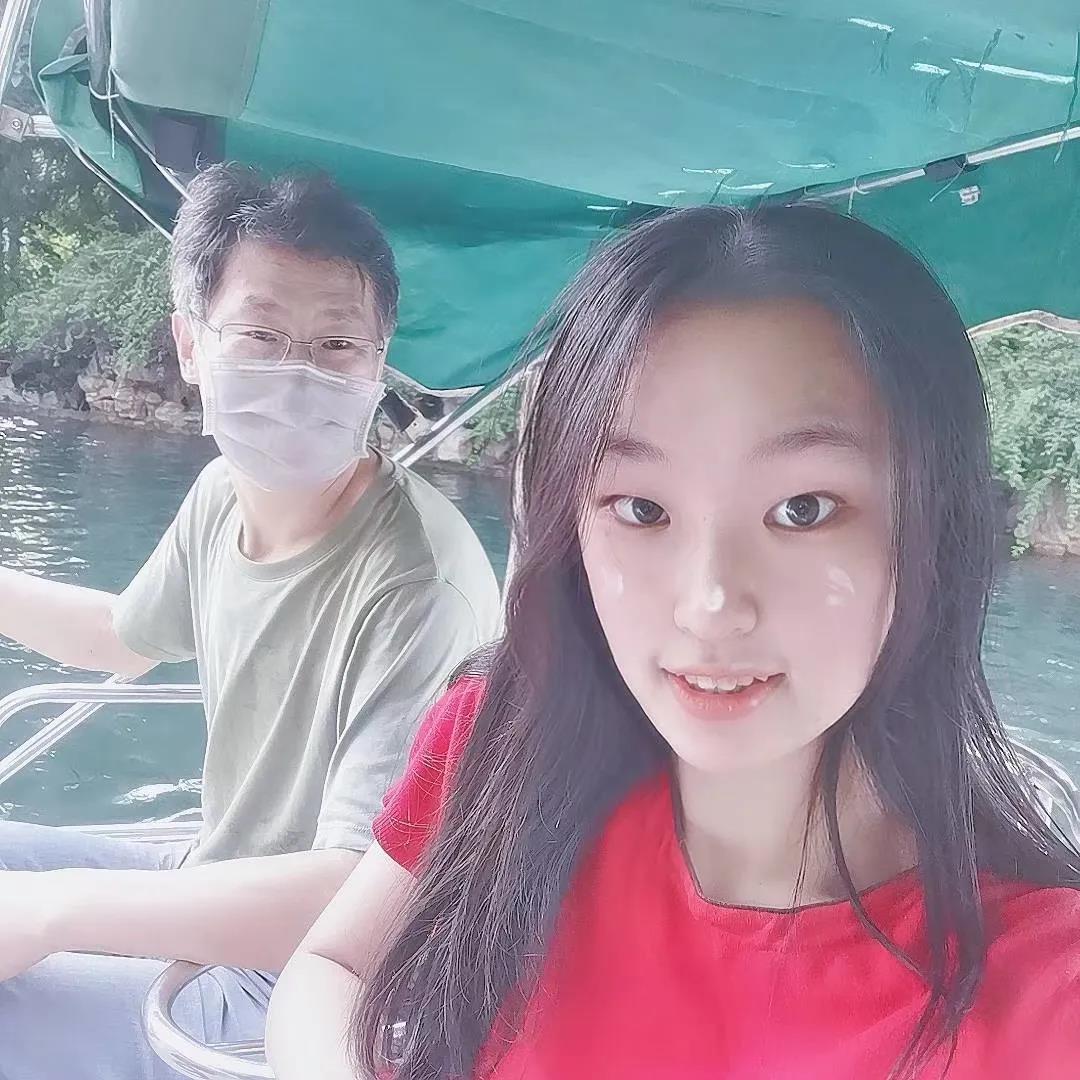 Jean and her dad.
Jean has been fond of playing the piano and dancing ballet since she was a kid and she has stuck to her hobbies for so many years. They're definitely her true love. "My parents' encouragement greatly contributed to my persistence. They never force me to make some decisions but encourage me to do everything carefully."
"My love for music not just derives from the pride after enjoying the play but from the resonance with different composers' emotions and thoughts through different melodies. Creation and epression have always been my love. Ballet dancing is another kind of artistic expression." Jean shared.
The endless passion for study, the willingness to be firmly grounded, the devotion to explore and the efforts she made all contributed to her final glory. In Jean, we see a positive self-motivation system---"working hard- gaining achievement- working hard- gaining achievement". "You can get anything you want if you work hard. If I fail, it's probably because of my lack of hard work. Then I should work harder." This is your senior sister Jean, an excellent student in both arts and science."